Wow...I certainly didn't mean to go this long with writing but to be honest, I've been more focused on getting "back in the saddle (seat) again.  Funny it's called that since all the seats I've used since the early 90s have all been saddle seats, from the Roc-N-Soc short thrones and hydraulic bases to the Porter & Davies BC2 being used now.
     Anyway, it's been a journey of daily physical therapy and rediscovering the love of playing to get to this point.  The physical therapy continues every day.  When done working on this for the morning, I'll begin the stretching with pendulum swings of my right arm 4 different ways, move on to pushing my right arm upward with a golf club (or a ProMark giant stick), next to pushing outward at the elbow, reaching for the ceiling from my shoulders, followed by a bunch of exercises with light weights to continue to build strength.  This routine takes at least an hour and sometimes close to two depending on how much I push it for further results.  After all that, it's 20 minutes of an iced gel pack across my right shoulder area to make sure any progress isn't lost.  Plus, it just feels really good after all that.  Trying to get these exercises in twice a day is sometimes challenging time-wise but certainly worth it as I can usually tell forward progress while working out.
     Getting back on the drums over time was a whole different bunch of patience.  The first couple of months after the surgery, much movement over to my right was very difficult simply because my arm hadn't been worked back out that far.  When Dr. Elrod put both my rotator cuff back in place and fixed the tear my subscapularis (shoulder blade muscle), it took 5-6 months, 2-3 days a week with my physical therapist, Brady Rittman, to pull both muscles back out close to where they should be from the repair and healing.  Along the way, I'd know how far to go with it as my arm would go as far as it could before any painful warning of not to go any further.  A little bit at a time was the rule.  That and A LOT of patience.  
     I started slowly just on a pad and a little bit of "Stick Control", discovering two things along the way.  First, the sticks felt really good and much more fluid in my hands with traditional grip.  Playing kit from 7-8 years old, I had flip flopped from matched to traditional grip in school for marching and symphonic bands but always played matched on kit.  There were times, I'd flip from one to the other for brushes or other things and even did a full gig with Mark playing traditional grip once just to see how it felt.  Planning on pursuing it more and getting some lessons to improve that side of my playing.  It sure seems to relax my "pocket" to where I'd like to hear and feel it
     The other realization was that it might be time for a stick size change. The ProMark 5B wood tip model I'd used for years now felt somewhat bulky and uncontrollable in my hands.  This became very apparent once I picked up a couple of the new ProMark "Select Balance" sticks at Summer NAMM. It wasn't so much I was looking but felt natural using a lighter stick and the new stuff by ProMark certainly gives plenty of options. I'm still test driving but the Forward Balance 5A with an Acorn Tip is becoming a favorite fast.  Keeping a pair of the same in the ActiveGrip finish in my bags to try from time to time too.
    Then came getting back on a full kit and knowing there'd have to be adjustments made. We've all seen drummers set-ups change over time especially when it comes to making things more comfortable as our bodies get older.  Tiring of my "Nashville set-up" (more Motown/Stax to me...one up/two down), I also wanted to put another rack tom back in the kit.  Took the 24" out and put the 22" kick back in, kicking the front out a little to go with the natural way my foot sits on the pedal. Got both rack toms lower and in front of me; mounting the 10" on a stand and the 12" in the middle of the kick drum, both toms splitting the snare drum; which is higher and flatter.  Then made adjustments throughout the kit to work with both traditional and matched grip if desired.  Done a couple of gigs since Dr. Elrod released me and it's working great but looking forward to the lessons on it.
     Now, about getting back to work.....I'M READY TO PLAY AGAIN!! In other words...HIRE ME!! Reach out, drop me a line or give me a call. When you take time off in this town, it takes a little bit to crank that machine back up again. I'm ready for about anything (except the marathon Lower Broadway gigs).  But pretty much anything else..
Showcases
Sessions
Road Gigs and Club Dates.
Also fully set up for e-sessions from my place to yours.  
     If you need someone reliable to lay a solid foundation beneath a band to put a song on top of....That's What I Do! And I look forward to working again....With You.
Lee
Aug. 2016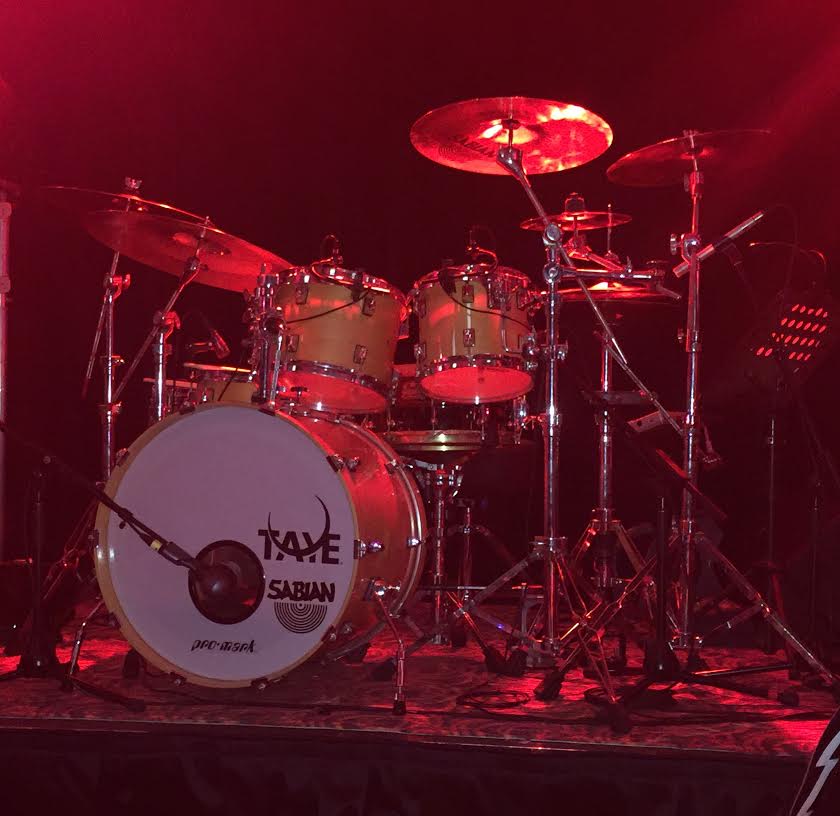 2016 Set Up Post Surgery